Right on the corner of the historical Bloemgracht ("Flower canal"), the great white entrance of L'invité, a French fine dining restaurant, elegantly invites you in. Over the years I've discovered a fair share of fine dining restaurants in Amsterdam. Some through my photography and occasionally I get to taste some of their signature dishes. With a special guest over from NYC, we joined a lovely bunch to try-out chef (and owner!) Sico de Moel's brand new tasting menu.
I met Sico a few years ago through an event at L'invité and had the pleasure to photograph his dishes twice afterwards. We've had long chats about his restaurant, the dishes he creates and my own passion for Persian cuisine. His humble character and genuine passion are very noticeable. That's exactly what makes the fine dining experience of L'invité so pleasant and laidback.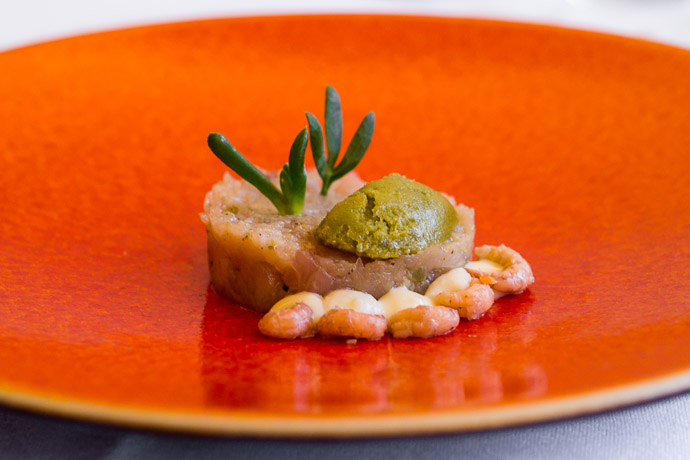 For the occasion Sico presented his brand new fall tasting menu. The courses are well balanced (portion- and taste-wise) and pay hommage to local Dutch produce. We started with Couteaux (Dutch razor shell with sweet and sour fennel), followed by Sico's savoury version of a Cappuccino (of goose). The Maquereau (hay smoked mackerel with cauliflower) is the final seafood dish on the menu, as we start building up towards the spectacular main dish: Dutch Lamb (from the island Texel, with salty lemon yogurt dressing). The final dish in this 7-course tasting is a next level Crème Brûlée, that will initially weird you out and then make you smile.
---
For more information visit L'invité's website.
---
Curious to discover more Amsterdam City Center restaurants? Check out my other posts!
American cuisine by chef SammyD at Wyers ⇒ read post.
Fine dining by chef JinHu at Gin Neo ⇒ read post.
Breakfast, lunch & dinner at Thijs ⇒ read post.
For more Foodie Hotspots around the world click here!