Blogging allows you to share your passion with the world, meet fantastic people and develop some great skills. On top of that, as a food blogger you get to taste (and eat!) a variety of dishes, which is the finishing touch to this wickedly fabulous thing we love to do. As for developing skills, well, I think that all bloggers can genuinely call themselves photographers at some point…until they meet an actual photographer and discover they really need to practice a bit more to claim that title! That's exactly what I realized when I met David and saw some of his stunning work. I was already familiar with some of David's material through social media. One of his notable projects that I remember is a series of pictures and videos that he created for a Dutch breast cancer foundation (visit www.haarstichting.nl for more info/donations). I was curious to see how this photographer would act while posing (for a change) in front of the camera and what signature dish he would present for his Dishtales feature.  Browsing through his portfolio, at the kitchen table, while cracking up over his theatrically spectacular cooking-swag, made me see what a special (and fun!) person this young artist really is. So what's on the menu today? Chicken Pie or as David names his dish: Mon Chérie Poulet. Yup that's indeed French and it translates to 'My Darling Chicken'. Keep reading!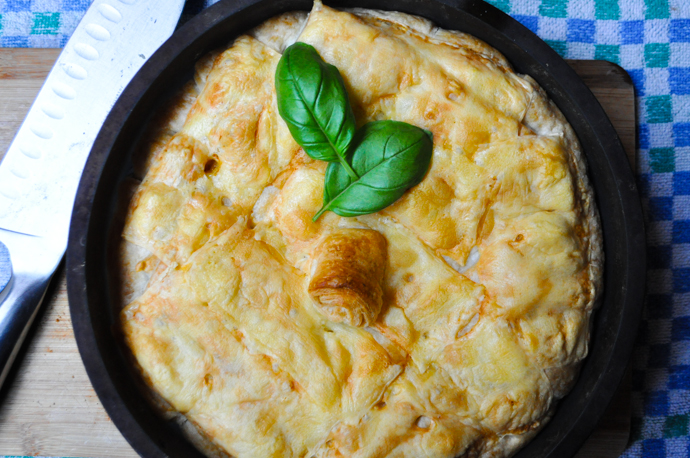 David's Dishtale brings us to his mother's kitchen, where she taught him this recipe. "I remember that one disaster dinner night at my aunt's house…" David says. He explains how he decided to make this chicken pie for his family. Although this chicken pie is supposed to be a little spicy, the amount of sambal oeloek added to the chicken shouldn't be more than one or two teaspoons. That night, while prepping the chicken, David accidentally threw in half a jar of sambal and…well…you can imagine the desperate family line-up for water! 🙂 Nevertheless, David has many great food memories with his family. It was cool to see that big smile on his Movember mustached face when he told me that through this feature he would like to thank 'Ons Mams' (the southern Dutch designation of 'mother') and dedicate this delicious chicken pie dish to her.
BUY:
Serving 3/4
400 gr chicken breast (boneless)
8/10 small sheets of puff pastry
25 gr sambal oeloek (sauce)
200 ml creme fraiche
350 gr cherries (canned in syrup)
2 tbsp curry powder
2 cloves garlic
2 cloves Chinese ginger (jarred)
DO:
Pre-heat oven to 200C/400F.
Cut chicken into pieces and fry it with chopped ginger and garlic for about 10 minutes (medium heat).
Add creme fraiche, curry powder, sambal oeloek and cherries (with syrup!) and simmer on low/medium heat for another 5/10 minutes
Meanwhile grease a baking dish and gently press in the puff pastry sheets, creating a firm 'pie bottom'. Spread some breadcrumbs to absorb excess liquids and allow the bottom of the pie to cook.
Now add your chicken stuffing to the pie, cover the pie with some more puff pastry sheets, prick some holes with a fork, cover with cheese (David used plain Gouda cheese) and cook the pie in the pre-heated oven for 30 minutes.
Voila, mon chéri poulet est préparé!
https://www.dishtales.com/meet-david-chicken-pie/

2014 | DISHTALES.COM
For more information and a sneak peak of David's work as a photographer, visit www.davidindenbosch.nl