The countdown is over and with this very special, colorful and vegan Christmas recipe for Couscous Stuffed Tomatoes we prepare for tonight: Christmas Eve. While everyone is preparing beautiful dishes around the world and buying last minute necessities to survive the days ahead, I want to take a minute and thank everyone who has helped me the past year with bringing Dishtales to a whole new level. The blog is evolving every day and I cannot imagine where I'd be without the tremendous support of you all. Thank you for loving food as much as I do. <3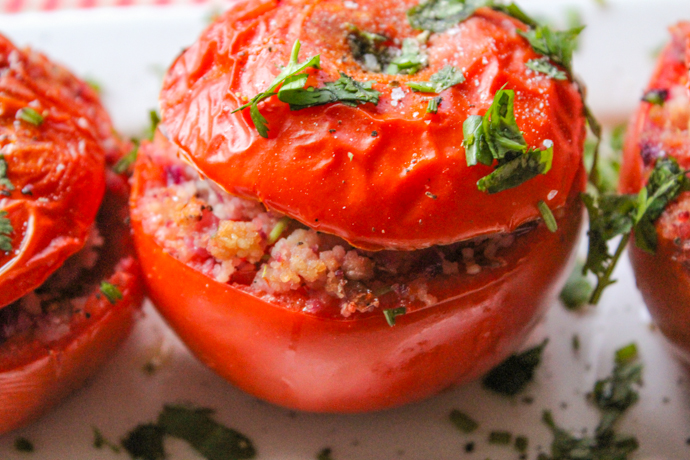 This vegan and super healthy recipe is my last contribution to the Christmas 2014 menu. Stuffing tomatoes is obviously an easy task and tossing some veggies together with couscous as well. It's all in choice of products and the mere presentation of this dish that makes it spectacular. The recipe (scroll down!) is really easy and saves you a lot of cash during these expensive holidays. Nevertheless, you should definitely try this dish, whether it's for Christmas, New Years Eve or any other special day throughout the 365 beautiful days we get to spend together as citizens of our wonderful world.
Have a wonderful time with your family and friends; enjoy creating some wonderful Dishtales all together.
Merry Christmas everyone!
BUY:
This recipe is for the Couscous Stuffing and it's good for stuffing about 12-15 large tomatoes or other vegetables. Don't be afraid to have some couscous leftover; it's delicious as a salad too! 😉
400 gr couscous
200 gr dried cranberries
125 gr crushed, dry-roasted almonds
200 gr red cabbage (very finely chopped)
2 red onions (finely chopped)
1 red bell pepper (finely chopped)
400 gr fresh pumpkin (diced into 1-2 cm cubes; see pictures)
DO:
Boil 500 ml of water with some salt & olive oil. When he water is cooking take it off the stove and add the couscous + cranberries to it. Stir well, cover the pot and leave it covered for 5-10 minutes.
Meanwhile, fry the pumpkin, onions and bell pepper on medium heat for about 5-10 minutes. Add the cabbage and continue frying over medium heat for about 2-3 minutes.
Take the frying pan off the stove and add the crushed almonds and chopped parsley to the veggie mixture.
With a fork, gently fluff the couscous. Add the veggie mixture to the couscous and stir thoroughly.
You're done! You can (1) eat the couscous salad (warm) as is, (2) stuff some veggies and roast them in the oven for about 20 minutes on 200C/450F or (3) you can let it all cool down for a fabulous lunch salad the day after!
https://www.dishtales.com/couscous-stuffed-tomatoes/
2014 | DISHTALES.COM