A few weeks ago I shared a bunch of pictures through my Instagram account about this cute little eatery called OCHA. On my quest for great Thai food, I ended up at this place a few years ago. My blogging colleague Farah told me about it and although her page is all about fashion and lifestyle, this girl is Persian and so I totally believe her when she recommends a restaurant! 🙂
Besides fantastic food, OCHA has a no nonsense vibe that reminds you that Amsterdam's a capital city where a quick bite is definitely possible. Of course we're in Europe and so we take our time when it comes to drinking coffee or having dinner. Nevertheless, sometimes you just wanna sit down, eat a tasty bite for a reasonable price and go on with your plans, right? As for that reasonable price, you can easily have a kickass Thai meal, including their original Thai springrolls and some drinks for less than €20 per person.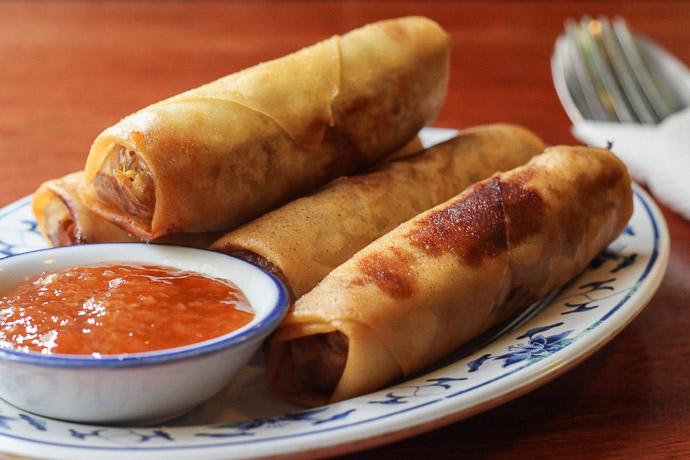 There's really two things that make me go back over and over again. First of all, the mere confidence of these ladies that they serve great food is visible upon entering. A tiny little printout with the following writing welcomes you to the restaurant: "No Cards, No Alcohol, Great Food". So yeah you can skip that bottle of whatever and bring cash, but they solidly claim that they serve up an epic Thai dish. Some might call it cocky, though I wish more restaurant owners would show us this confidence! Second of all, the fact that the hostess (one of the few sisters that run this place) remembers everyone upon entering (even up to what food they usually order!) is mesmerising and shows that these ladies understand what hospitality means.
---
For more information visit OCHA's Facebook Page.
---
Curious to discover more Amsterdam City Center restaurants? Check out my other posts!
Haute cuisine at L'invité ⇒ read post.
Fine dining by chef JinHu at Gin Neo ⇒ read post.
Breakfast, lunch & dinner at Thijs ⇒ read post.
For more Foodie Hotspots around the world click here!